Originally created in Fall 2008, this simple, flavorful, grain-free and nut-free raw bread is extremely versatile and easy to make.
It continues to be one of the most popular recipes featured at Raw Voilà. I hope you enjoy it, too!
'Carrocumber Bread'
Great flexible texture for sandwiches and wraps. Also wonderful alongside soups, salads and dips.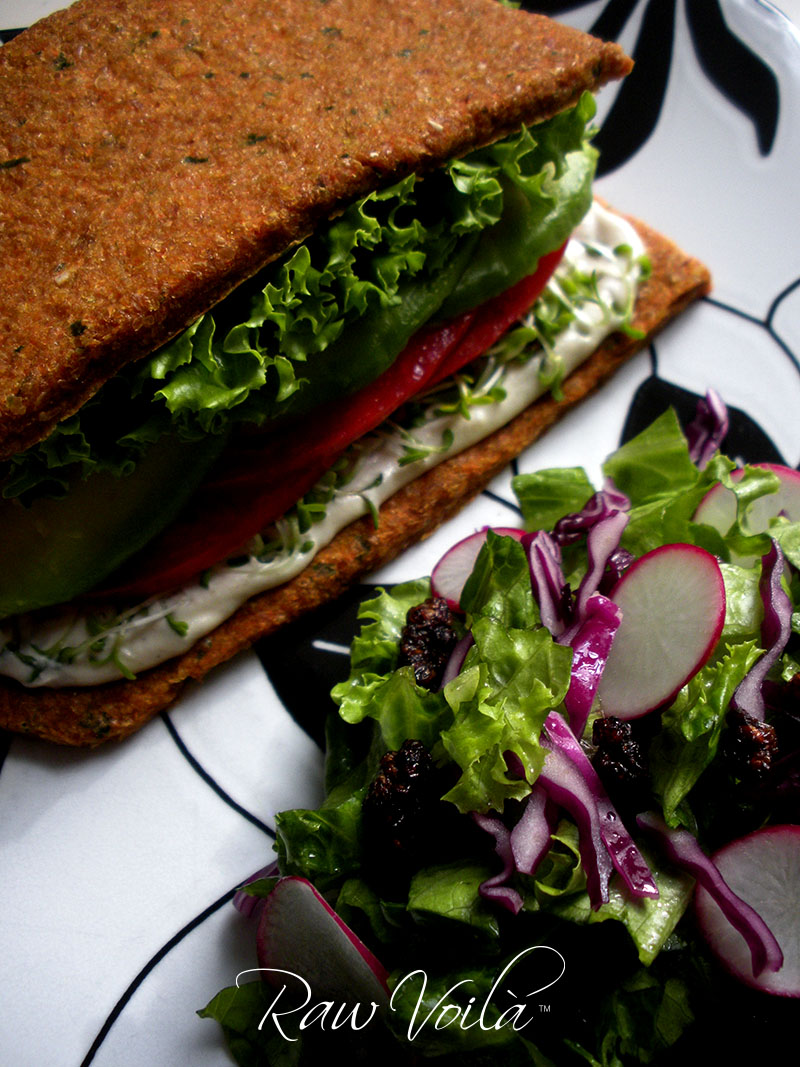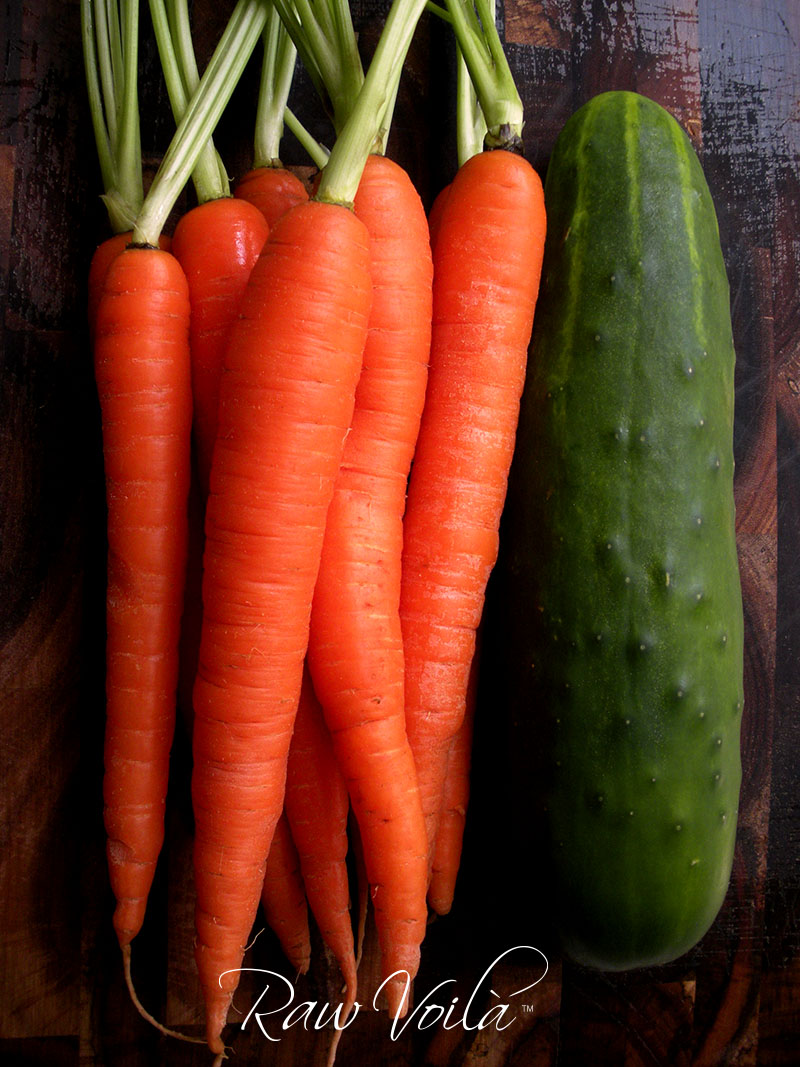 1 cup carrot juice pulp, tightly packed
1/4 cup cucumber juice pulp, tightly packed
1/2 cup golden flax seeds, ground
1 and 1/2 tablespoon dates, pitted and chopped
1 tablespoon raw coconut oil
1/2 teaspoon grey sea salt (fine grind)
1/4 cup pure water (optional)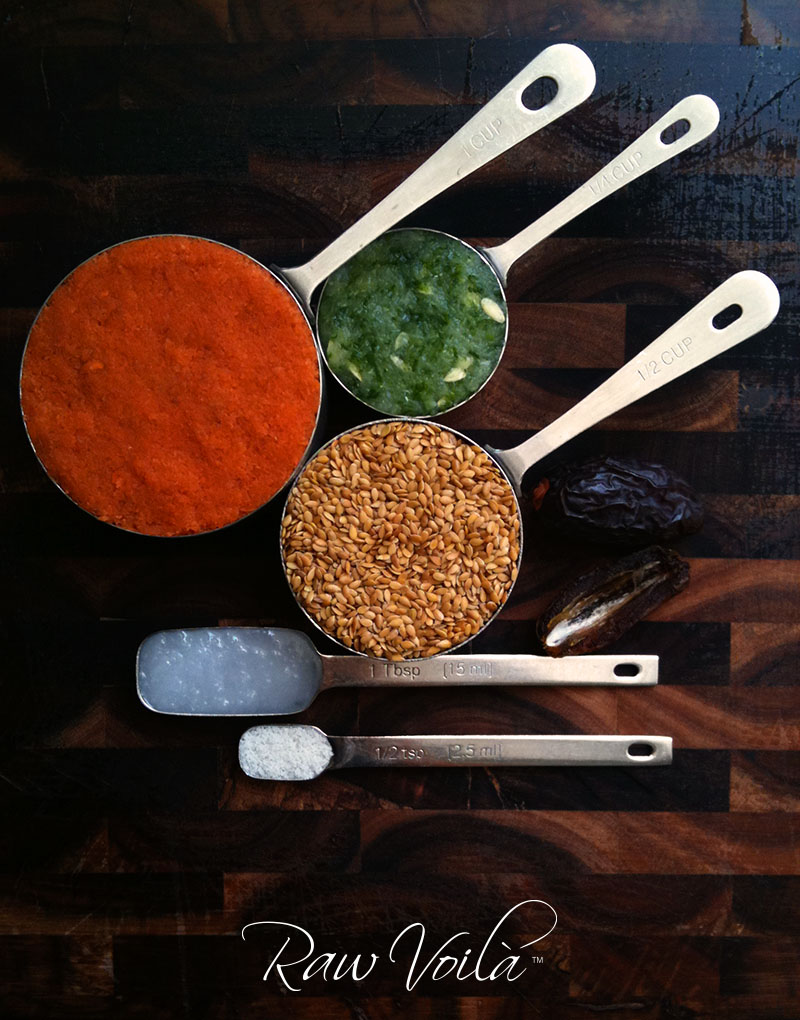 Using a food processor, blend together until well mixed the carrot juice pulp, cucumber juice pulp, chopped dates, raw coconut oil, and salt, pausing periodically to scrape down the sides and help the mixture turn over. Next, add the ground flax seeds and blend until a ball of dough begins to form. If the mixture is too thick, incorporate some or all of the water to help loosen it up. Place the dough onto a ParaFlexx-lined dehydrator tray and spread or roll it out to roughly 1/2-centimeter to 3/4-centimeter thick. Dehydrate at 105 degrees for two to three hours or until the dough is dry enough to be flipped onto a Polyscreen-lined dehydrator tray. At this stage, you have the option of scoring the mixture into your desired bread slices and shapes. Continue to dehydrate the dough for another three to four hours or until it is firm but flexible, and then separate the bread along score lines. If you chose not to score the mixture midway through the drying process, simply slice it into manageable pieces once it is done. Store the finished bread in an airtight container inside of the refrigerator and use within 3-5 days.
Here is what the dough should look like after the ingredients have been blended together.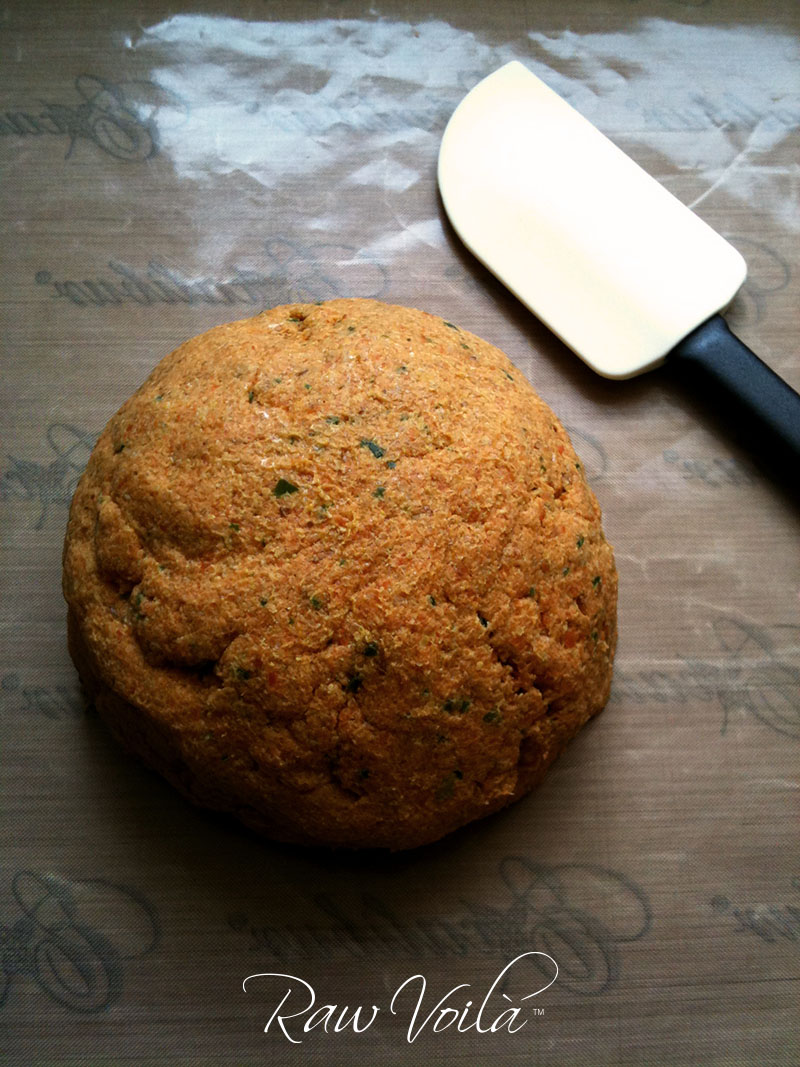 Here it is again spread out to roughly 1/2-centimeter to 3/4-centimeter thick, ready for the dehydrator.
Notice the speckles of nutrient-rich cucumber skin throughout.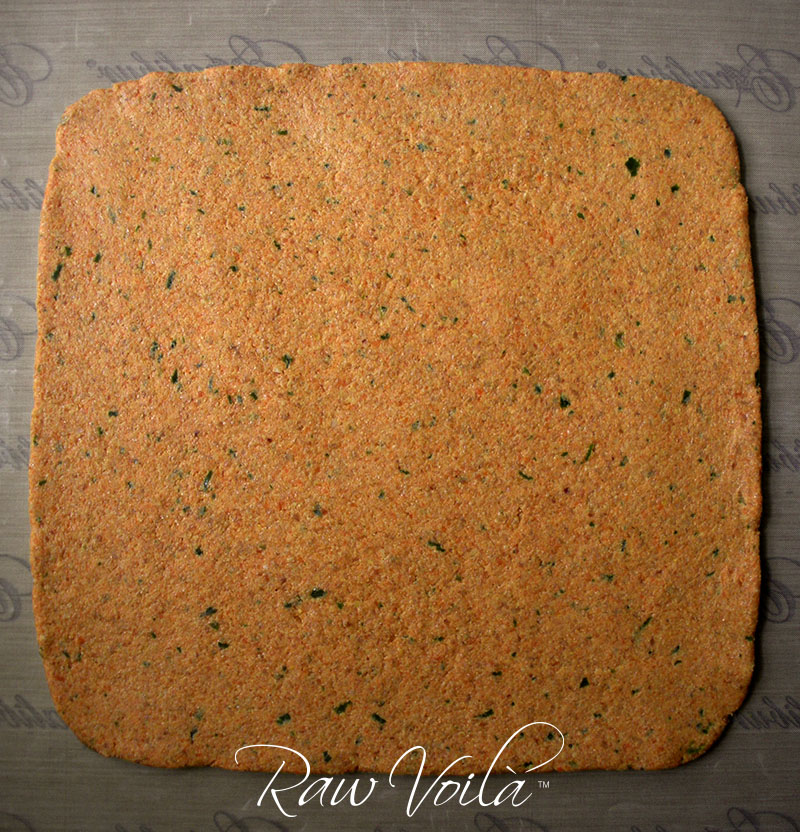 And this is Carrocumber Bread at the completion of the drying process.
The pale orange color has deepened to a dark pumpkin and the bread has nicely firmed.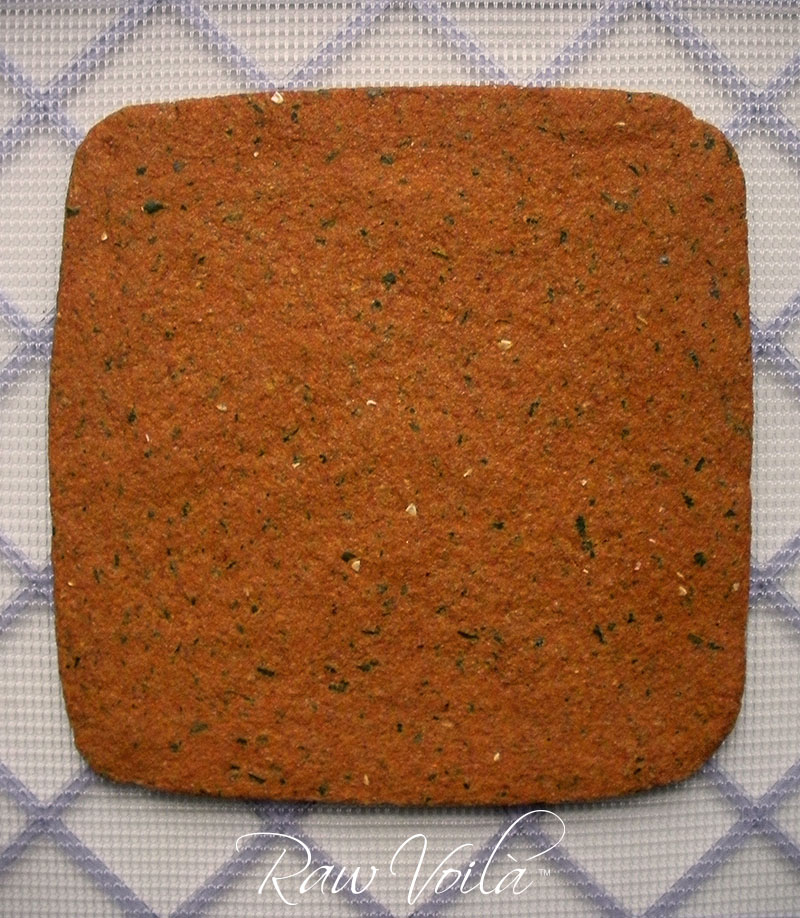 As you can see here, I chose to slice my bread after it finished drying.
I don't mind the rounded edges. They taste good, too!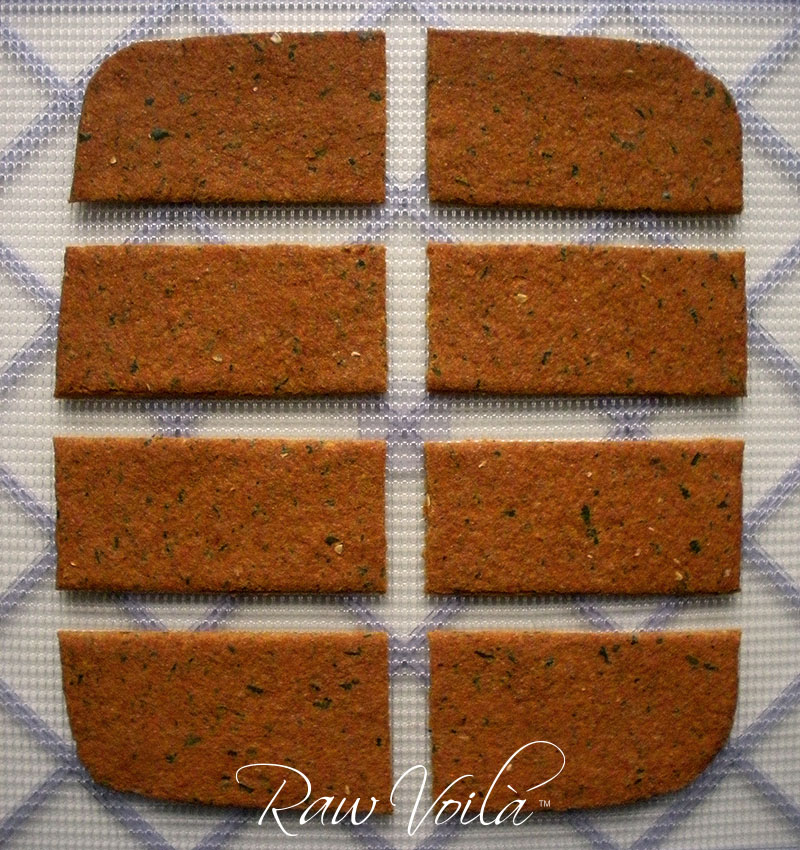 Carrocumber Bread is very versatile for sandwiches and wraps. Try it with Marjoram Magic and your favorite toppings. Enjoy a slice or two alongside soup or salad. Use it for scooping up a savory or spicy dip. While it is pretty flavorful, Carrocumber Bread is not overpowering and will complement just about anything you pair it with. But do not just take my word for it. Give it a go yourself!
---
A few tips…
To help limit your exposure to harmful pesticide residues and waxed coatings often associated with conventional produce, try to purchase organically grown vegetables as often as possible.
In the list of ingredients, I noted 1 cup carrot juice pulp, tightly packed. One cup is roughly equal to leftover pulp from juicing five to six large carrots. Carrots can grow pretty big and can vary in size from very small to jumbo. I'm referring to the large-sized carrots that you will most likely find sold at free-standing markets and in grocery stores (see the second picture above).
In the list of ingredients, I noted 1/4 cup cucumber juice pulp, tightly packed. One fourth of a cup is roughly equal to leftover pulp from juicing half of one large cucumber. When juicing I like to use the flavorful Garden variety cucumber (see the second picture above), but you can use any type of cucumber that you prefer.
In the list of ingredients, I noted 1 and 1/2 tablespoon dates, pitted and chopped. One and a half tablespoon is equal to one whole large date and half of one large date, or two medium dates, or four small dates. For this particular recipe, I used traditional Medjool dates for their subtle maple flavor but just about any other date variety would work fine.
If your dates are not soft and pliable, you can soak them in a small amount pure water, just enough to cover the dates, for fifteen minutes or longer until they plump up enough for ease in chopping and blending. If you store your dates in the refrigerator, they will become stiff from the cold but will usually soften up somewhat after being left out at room temperature for a while. If they still seem hard, then definitely utilize the soak method.
The ground flax seeds will soak up any liquid that is in the mixture. It is important that everything else be thoroughly mixed before the ground flax is incorporated.
The flax seeds were measured before they were ground. The seeds can be ground in a spice mill, coffee grinder, or mini-prep food processor. I like to use golden flax seeds for their milder flavor, but brown flax seeds can be used as well.
In the list of ingredients, I noted 1/4 cup pure water (optional). Depending on your juicing method, you could end up with a rather soggy pulp or a semi-moist pulp. If your juice pulp ends up more dry than wet, it may be necessary to include in the mixture some additional fluid to help with the blending process. If you decide that extra liquid is needed, first try only using half of the suggested 1/4-cup amount and then see if more is required. A somewhat dry and firm dough can be much easier to handle than one that is quite moist and gooey. You will need to use your own judgement.
The dough can be spread with a spatula (as shown above in the fourth picture) or it can be leveled with a rolling pin. Since the dough will be a bit sticky, it would be helpful to use some type of reusable non-stick sheet (a ParaFlexx sheet would be good for this) on top of the dough to aid in rolling it out. Cool temperatures will create a more stiff and somewhat less tacky dough. You can refrigerate the dough for a short time prior to leveling it with a rolling pin. If you choose to use a spatula, it would best to keep the dough at room temperature for ease in spreading. I like to use a spatula, just in case you were wondering.
The full character of this bread is best enjoyed when it is firm but flexible and not mushy in the middle. If you make the bread thicker than 3/4 of a centimeter, the dehydrating process will take much longer. A full six hours perfectly works for me, but you will need to determine what time scale is good for you.
Dehydrating times may vary, depending upon climate, how much liquid is in the mixture, how thick or thin the mixture is spread, etc. Accordingly, you may need to adjust the drying time. The suggestions listed above are average guidelines. After the first two hours, try peeling back a corner of the mixture. If it easily releases from the ParaFlexx sheet without breaking, then it is time to transfer it to a Polyscreen sheet. An easy way to do this is to first remove from the dehydrator the ParaFlexx-lined tray which contains the mixture and set it down on a countertop. Next, place a Polyscreen sheet on top of the partially dehydrated mixture, and then place an empty tray on top of the Polyscreen sheet. While securely holding together both trays, flip them over once and place them back onto the countertop. Remove the top tray, then the Polyscreen sheet if you used one underneath the ParaFlexx sheet, and then slowly peel the ParaFlexx sheet off of the partially dehydrated mixture. Put back into the dehydrator the new tray which contains the partially dehydrated mixture and continue the drying process.