Champagne in the morning is a beautiful thing, especially when it is exceptionally high in vitamin C and a great source of vitamin A and folate—champagne as in Champagne mango, also known as Ataulfo. The succulent, melt-in-your-mouth flesh is virtually non-stringy, intensely orange and sticky sweet. The best specimens have slightly-wrinkled, deep golden skin and are soft to a gentle squeeze. Champagne mangoes are one of my favorite varieties of mango that I excitedly indulge in every year. And while I do include them in various concoctions, from decadent sauces to spicy salsa to velvety smoothies and more, I love having them in their most natural form. Crème de Champagne is a nice compromise in retaining more of the fruit's natural flavor profile and at the same time increasing its nutrient content by adding a lovely dose of Omega 3 by way of hemp seed oil and extra trace minerals via pink crystal salt. Additionally, the nuttiness and slight sweetness of hemp seed oil pairs beautifully with this type of mango, deepening the overall flavor. The oil also enhances the creaminess. The pink crystal salt boosts the natural sweetness of the mango while the mint lends a playful brightness across the tongue and nicely complements every component. And although it is a simple mix, the end result is gorgeous with a silky mouthfeel and delicious, rich taste.
'Crème de Champagne'
Silky. Sweet. Delectable.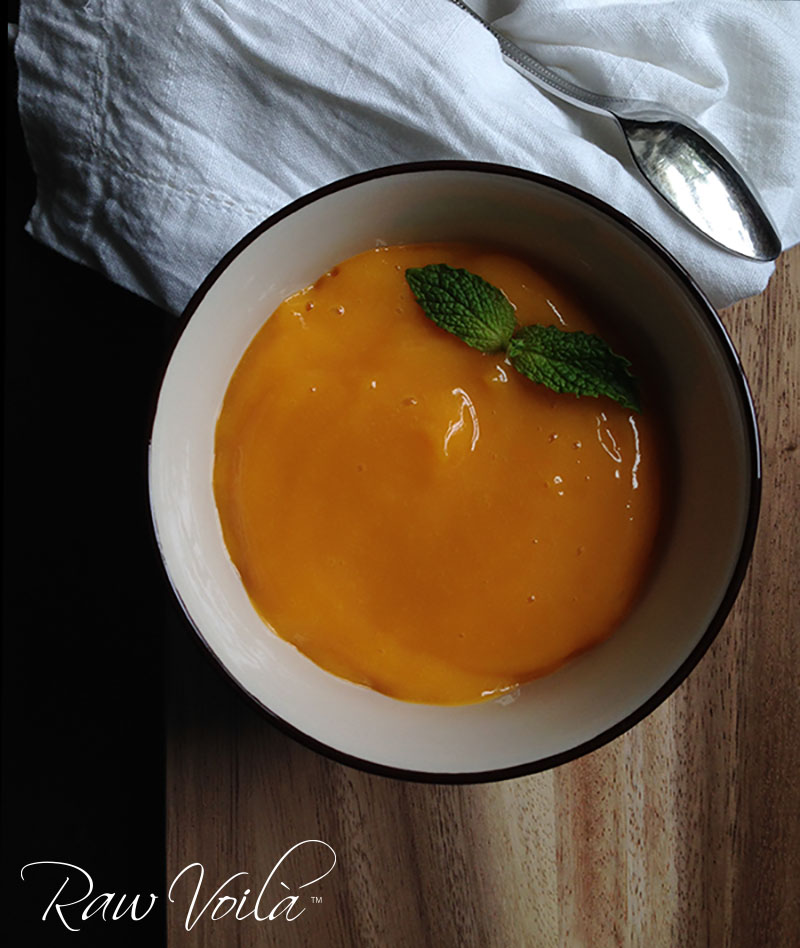 3 large ripe Champagne mangoes, peeled and seeded
2 teaspoons raw, cold-pressed hemp seed oil
small pinch of pink crystal salt (fine grind)
garnish: 2 small fresh mint leaves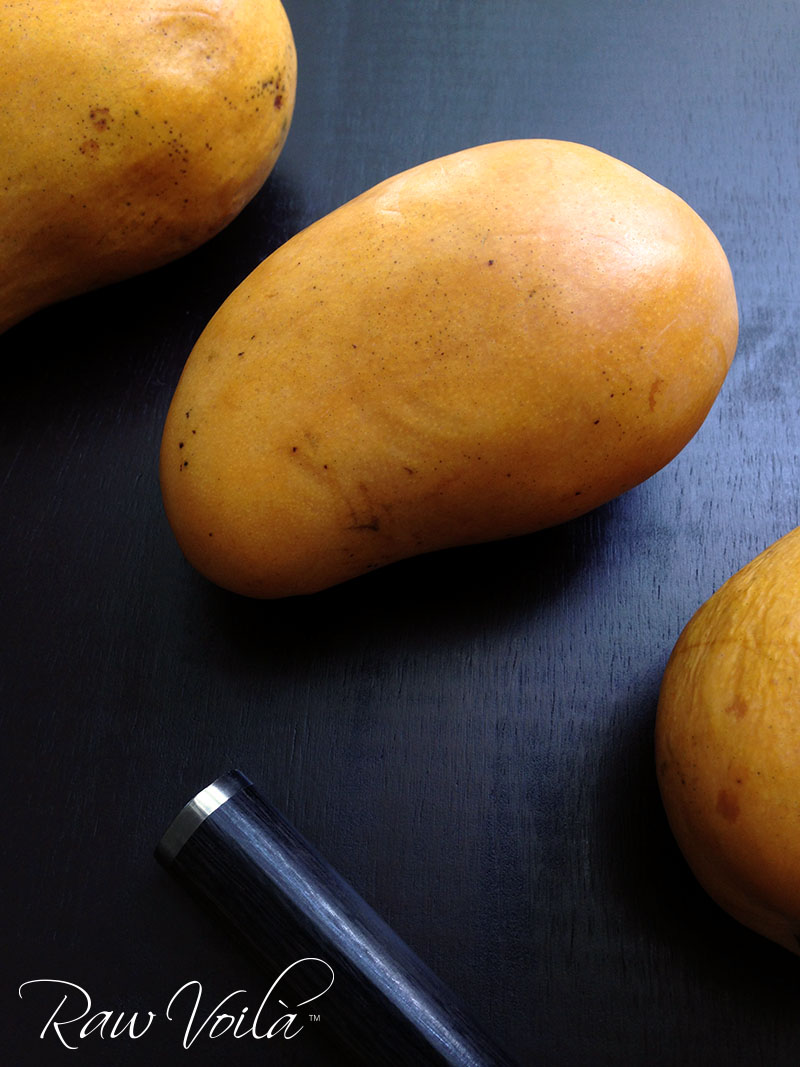 Using a high-speed blender, purée the mango, hemp seed oil, and salt just until the mixture becomes creamy, pausing periodically to scrape down the sides and help the mixture turn over. Be mindful not to liquify the mango, the intent is viscous rather than runny. Process the mixture through a very fine mesh sieve, such as a chinois, to ensure the silky texture is completely stringless. Serve Crème de Champagne in a small bowl garnished with fresh mint leaves. Perfect for one comfortable serving or two very small servings. Enjoy!
---
A few tips…
To help limit your exposure to harmful pesticide residues often associated with conventional produce, try to purchase organically grown fruits as often as possible.
The listed ingredients should roughly amount to 3 ounces of Crème de Champagne, depending on how much flesh your mangoes yield. Double or triple the recipe as needed.
In the list of ingredients, I noted 3 large ripe Champagne mangoes, peeled and seeded. A large Champagne mango would equate to at least 4 inches in length and 2 and 1/2 inches in width.
In general, Champagne mangoes with deep golden skin tend to be much sweeter than those that are lighter yellow, and are definitely more sweet than those with green-tinged and fully green skin. The paler and more green the Champagne mango, the less ripe and the more tart it tends to be. And the deeper the golden hue, the riper and sweeter it tends to be. Don't be afraid of slightly wrinkled skin, it's just fine with this variety of mango, and in fact can be a good indicator of ripeness. A really ripe Champagne mango may be speckled throughout with small dark spots, and can also be more than slightly wrinkly—both of which can still be okay. Although, on occasion, a really ripe Champagne mango can slightly lean toward bitterness as well as have some brown patches throughout the flesh. However, a few of the tastiest and memorable ones I have had happened to be pretty ripe, so be open to discovering those as well. Definitely avoid Champagne mangoes with medium and large black spots as they will have become overripe, watery, and unpalatable.
All of that said, for this particular recipe, I only use ripe Champagne mangoes with deep golden skin (as pictured above) versus any that are really ripe and covered with dark spots. I also prefer to not add any type of sweetener to this recipe, as wonderfully ripe Champagne mangoes are naturally sweet enough.
Crème de Champagne can easily be utilized beyond this recipe. It can also serve as a base for a pie filling, truffle filling, used as an ice cream topping, to create sorbet, used as a layer in a parfait, a salad dressing component, used to create a fruit soup, and just about anything you may imagine.