'Fauxplait'
I originally created this recipe in the Summer of 2007, and to this day I still enjoy its simplicity.
Four basic nutritious ingredients transformed into a succulent concoction that's surprisingly reminiscent of yoghurt and full of essential minerals, vitamins and antioxidants—a good-for-you indulgence!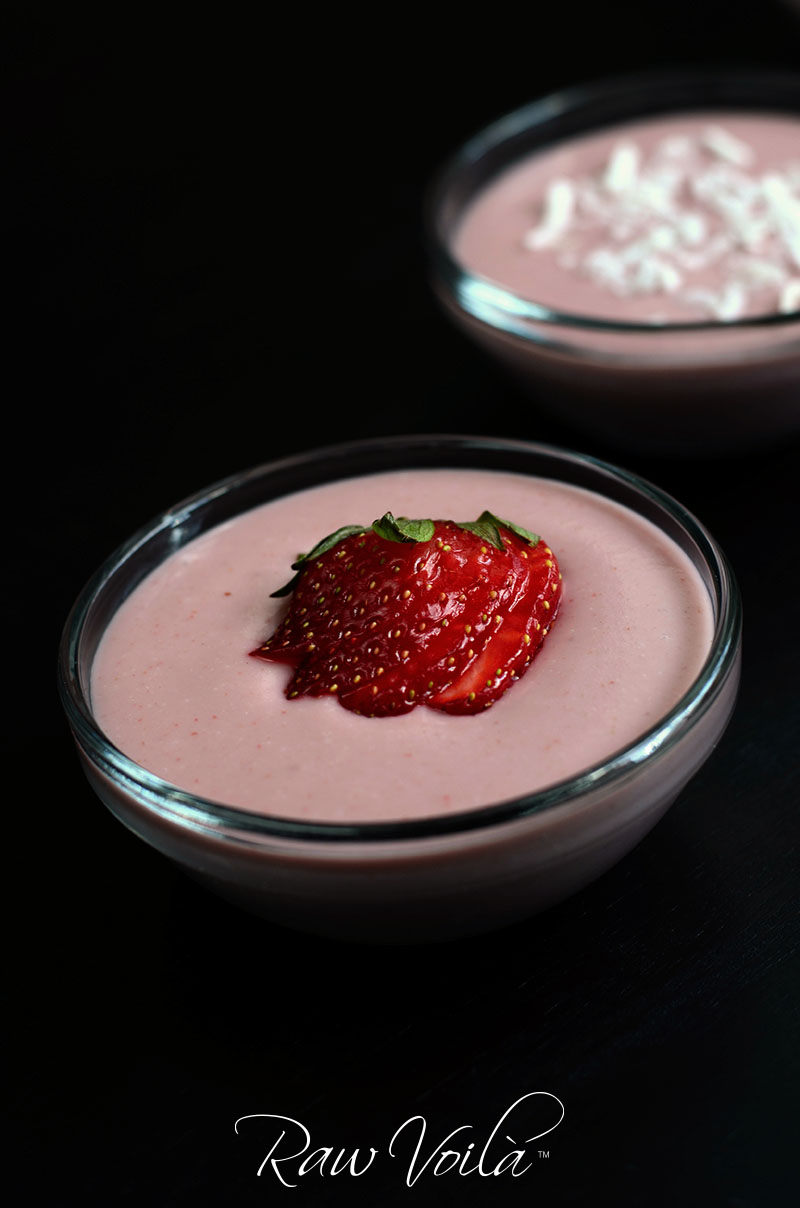 1 and 1/2 cups fresh strawberries, hulled, medium chopped and tightly packed
1 cup young coconut flesh, small dice and tightly packed (the thicker the flesh the better)
3 tablespoons raw Tupelo honey
1/8 teaspoon grey sea salt (fine grind)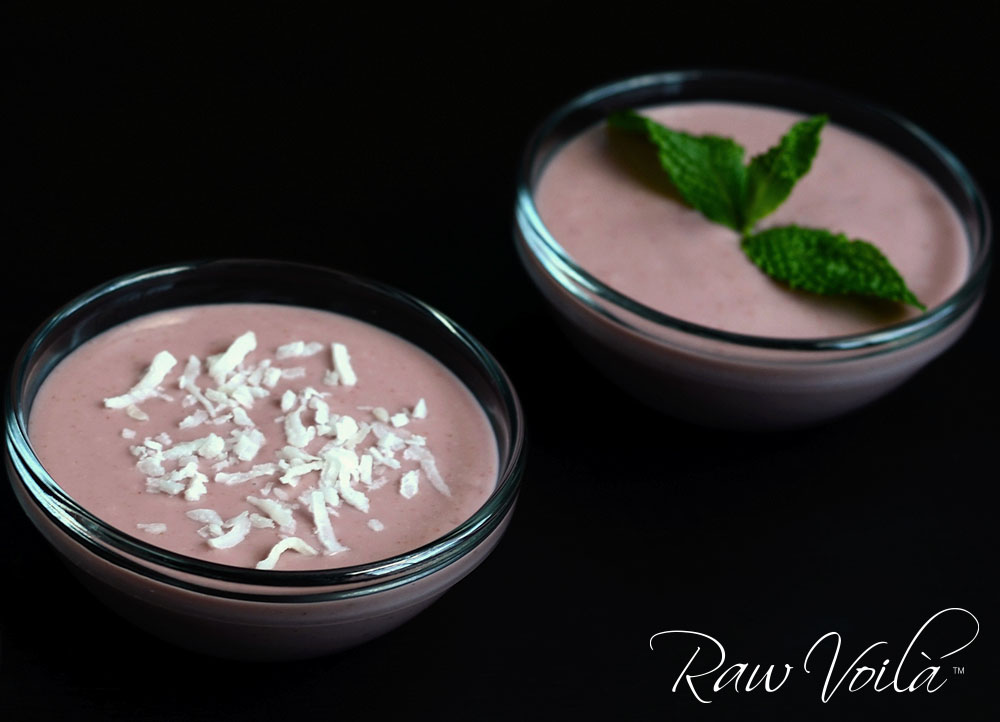 Using a high-speed blender, blend together all of the ingredients until creamy, pausing periodically to scrape down the sides and help the mixture turn over. If you have a Vitamix or other type of powerful blender, the end result should be virtually seedless with a silky texture. Fauxplait can be served immediately or chilled for a couple of hours to fully set prior to serving. Fresh strawberries make the perfect garnish, though dried raw coconut flakes and fresh mint are also wonderful choices (as shown in the above photos).
---
A few tips…
The listed ingredients roughly amount to 16 ounces, enough for three comfortable servings or six small servings. Double or triple the recipe as needed.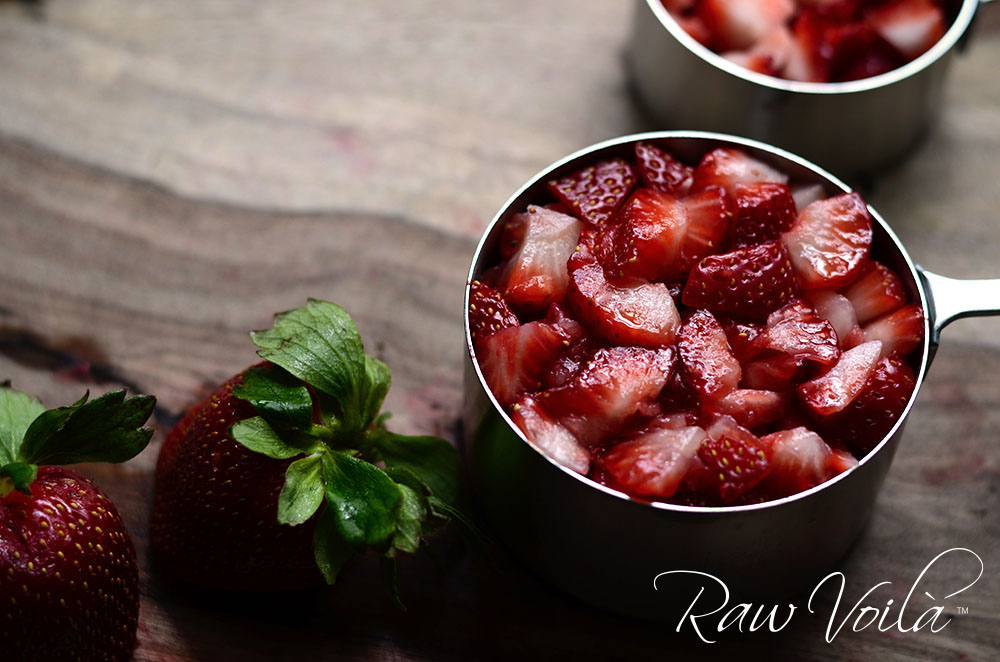 Fauxplait isn't overly sweet, however if your strawberries are quite tart, you may need to increase the amount of honey to help balance it out. And, of course, if your strawberries are pretty sweet, you can decrease the amount of honey. Keeping the mixture 'just sweet' was my original intention, but it's really going to come down to your individual preference. Something helpful: Reserve the strawberry tops for adding to smoothies or salad mixes. Those precious greens also provide essential vitamins and minerals. Any unused strawberry tops can be stored in an airtight container inside of the refrigerator for 1-2 days.
Exceptionally high in vitamin C, strawberries are a great source of antioxidants as well as potent anti-inflammatory properties. To help limit your exposure to harmful pesticide residues often associated with conventional produce, try to purchase organically grown strawberries as often as possible.
If you find that the young coconut flesh is a bit too thick to easily process, add a small amount of young coconut water, a teaspoon at a time, to help loosen things up. Be mindful that the more liquid you add, the thinner your mixture may be in the end. Fauxplait is meant to be viscous rather than runny.
Young coconuts will vary from one to next in how much flesh is found inside. Some are quite young to where the flesh can be akin to jelly, some with flesh starting to solidify but still quite soft, and others more mature with flesh that is thick but pliable. Opening each one is a surprise. Since there is really no perfectly accurate way to definitely be sure exactly how much flesh is inside of each young coconut, it may be wise to purchase two to three at a time, just in case. Discovering there is not enough of an ingredient in the midst of recipe prep might not be so fun, though I will admit from past experience that it can result in an 'exciting' adventure!
Young coconuts can be found at International Markets as well as some health food stores. They may occasionally be found with their green shell still intact; however, they will most likely be sold with their outer shell removed and the white 'husk' found underneath visibly displayed. The white 'husk' should be smooth and not dimpled as if drying out and free of any strange pigments. Most young coconuts will have a mild and sweet flavor, though some can be rather bland, and some even a little bit salty. But they should not taste bitter.
Coconuts in general are rich in fiber, potassium and phosphorus as well as lauric acid which provides antimicrobial, antiviral and antifungal properties. The healthy fats in coconuts promote digestive healing and wonderfully boost your metabolism. Coconut water is an excellent source of electrolytes, perfect for rehydrating after vigorous exercise.